Your Enterprise Digital Nervous System (EDNS)

Experience the Autonomous Enterprise
1. Unlock True Financial & Customer Potential
2. Autonomously Drive Management's Strategic Objectives
3. Proactively Improve Operation's OKRs/KPIs
4. Align Velocity of Micro & Macro Decisions & Actions
5. No More Dashboard & Analytics Fatigue
AGI Platform
ExperienceFlow.AI is the first-of-its-kind Enterprise Digital Nervous System powered by AlphaGo-like AI agents that outperform best-in-class humans in any role. This system significantly simplifies business operations and provides substantial improvements in financial and customer outcomes.
Our Mission: Democratize access to AlphaGo-like AI agents for enterprises across all societal tiers, empowering them to maximize financial and customer outcomes.
Artificial General Intelligence (AGI) Platform: Human-level AI technology is primed for mass enterprise adoption.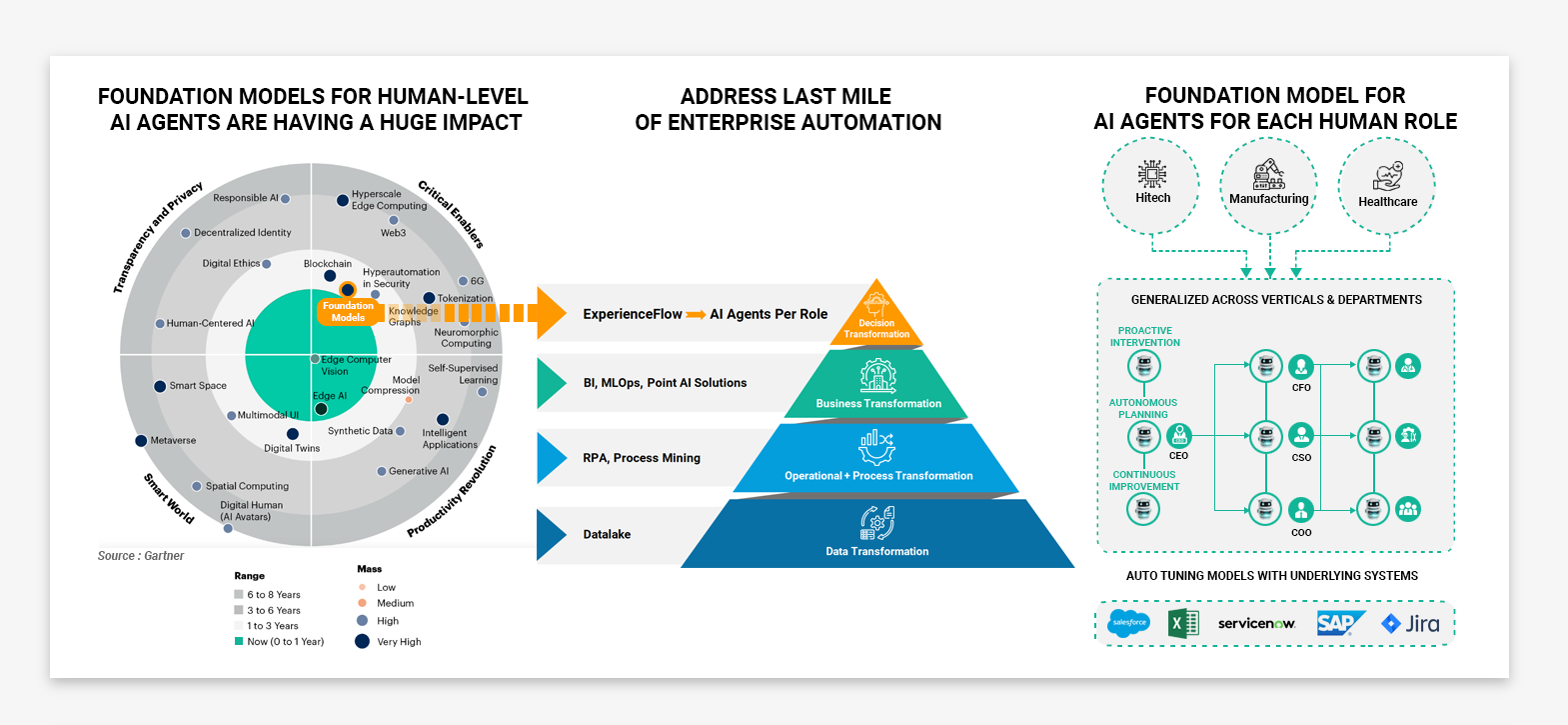 Autonomous Enterprise
"We are going to see more organizations start to move away from deploying siloed AI and ML applications that replicate human actions for highly specific purposes and begin building more connected ecosystems with AI at their core. This will enable organizations to take data from throughout the enterprise to strengthen machine learning models across applications, effectively creating learning systems that continually improve outcomes. For enterprises to be successful, they need to think about AI as a business multiplier rather than simply an optimizer." – Vinod Bidarkoppa, CTO, Sam's Club & SVP at Walmart, in VentureBeat 2023 Enterprise AI Predictions.
Enterprise Digital Nervous System (EDNS) is THE source of truth for decision-making. It mimics how people in organizations make complex strategic, operational, and corrective decisions, considering context, situation, and probabilities. EDNS can synthesize best practices with enterprise-wide data to determine the optimal path of decisions by role to meet enterprise-wide objectives. Beyond insights, it proactively takes action and makes recommendations to help course correct and improve performance as conditions change in real-time.
WHY US
ExperienceFlow.AI is the only enterprise-wide outcome-oriented solution with ability to continuously outperform best-in-class human talent
EXPERIENCEFLOW BENEFITS
Improved Enterprise Outcomes – Dramatically increase KPIs most important to enterprise success – Revenue, Profit, and Customer Experience
Perform at Superhuman Speed – Automate decision-making in real-time that considers enterprise goals, best practices, and company experience
Align by Role Automatically – Enterprise-Wide Multi-Role Alignment – Automatically Orchestrate decisions and actions by role that drive focused on driving towards enterprise-side KPIs
Improved Decision Quality – Virtually eliminate negative consequences from poor decision-making caused by data silos, lack of information flow, and inexperience of talent
Eliminate Repetitive Thinking – Automate decision-making that is complex in nature but is repetitive and based on analyzing the same set of inputs
See Results Quickly – Start seeing results immediately without having to integrate enterprise systems.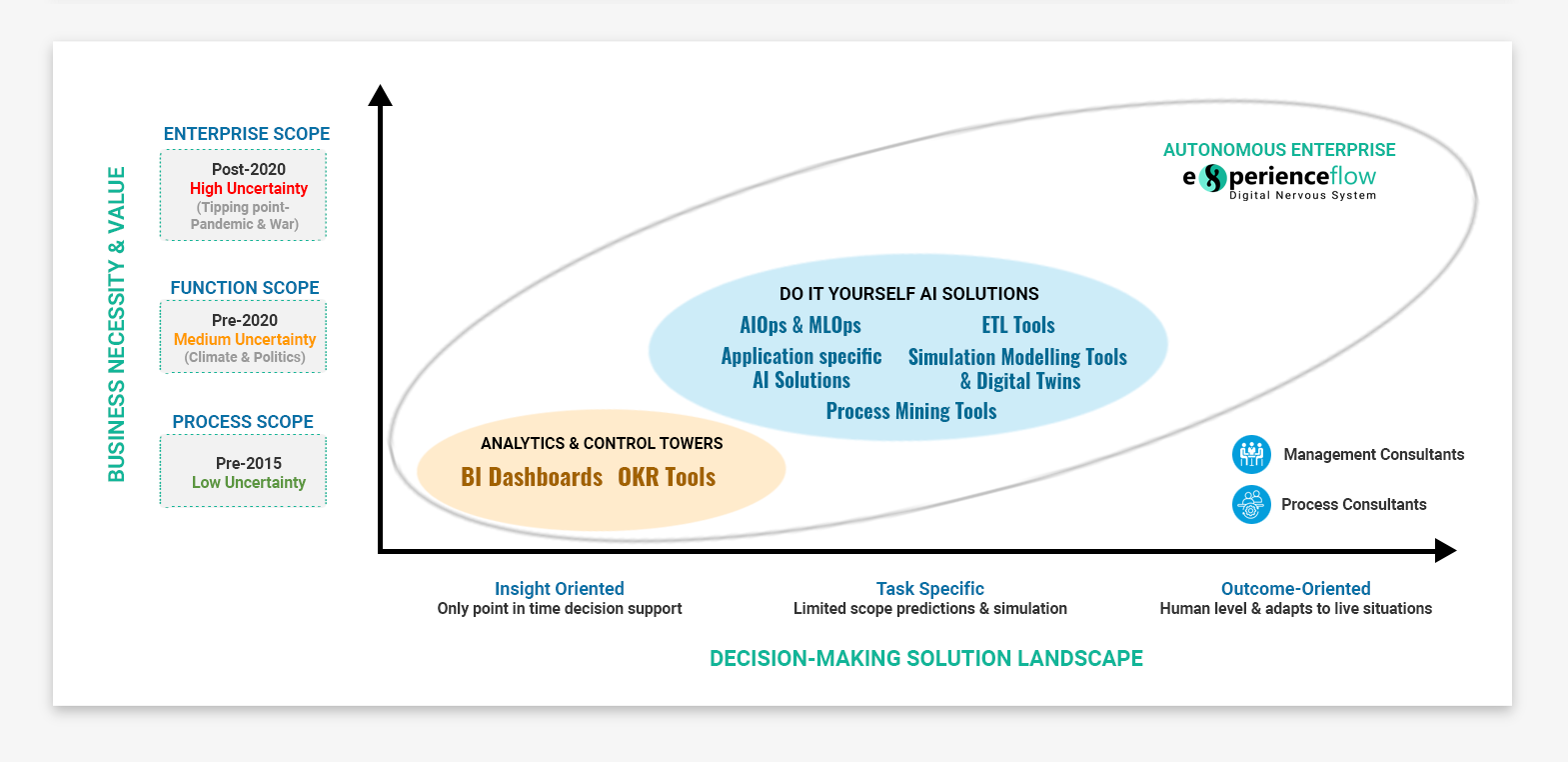 PACKAGES
Faster
Better
Result Oriented
Platform
To drive Outcomes
Autonomously Powering Management Objectives
Transforms Strategic Objectives into outcome-oriented Decisions & Actions for each role in the organization.
Centralize and drive Decisions & Actions across the enterprise in real-time.
Achieve certainty of outcomes & go beyond strenuous dashboard reviews.
Proactively Optimize Operational OKRs/KPIs
Orchestrate optimal flow of decisions & actions from the micro-level to the macro-level.
Consistent peak performance and elimination of wastage: Customer Experience, Asset Utilization, Employee Productivity & Process Compliance.
Automate proactive root-causing and prioritization no more after the fact fire fighting.
Business EDNS Product
Better Planning & Execution Of Strategic Yearly Objectives
For CEOs, COOs, CFOs, CROs/CSOs & CIOs: One stop shop for digitally aligning all your 3-to-5 year strategic objectives and address the decision-making root-causes in real-time across the management team.
Operations EDNS Product
Result oriented & measurable Daily/Weekly/Monthly OKR/KPI control
For VPs/Directors of Sales, Operations, Finance, Quality, Customer Service & HR:

  Autonomously drive daily, weekly, monthly & quarterly OKRs/KPIs improvements linked to Asset Capacity, Employee Productivity, Process Compliance & Customer Experience.
Decision Transformation
Fast track, 15-20% Financial & Customer Outcome Improvement
We transform your financial and customer outcomes vision into a scientifically engineered roadmap by implementing our Business & Operations EDNS Products across multiple departments – Sales, Operations, Finance, Quality, Customer service & HR.
What We Do
world`s first
real-time
outcome
improvement
platform

Real-time Decisions & Actions Are Essential In Today's World.
Each customer who is not happy with their experience is an opportunity lost forever.
Each mismanaged order or asset today is a leakage of revenue that will never be recovered.
Each poorly executed or repeated process is wastage that adds to your costs.
Each employee gap in standard operating procedure limits your ability to scale.
ExperienceFlow's patented AI powered Enterprise Digital Nervous System is the new & better way to optimize macro-level outcomes, including Revenue, Cost, Compliance and Experience by addressing opportunities at the micro-level of each customer, order, process and employee.
How We Do It
Transform & Orchestrate Outcome Execution With A Network Of Situation-aware AI Agents
Capture Important Enterprise Signals and covert them in Outcome oriented Decisions & Actions.
Drive Improvements Continuously by learning optimal sequence of decisions & actions using AI.
Focus on Outcomes that matter to your customers, your business and your employees.
Leverage the power of advanced AI built using Neural Networks & Real-time Optimization Models.
INDUSTRIES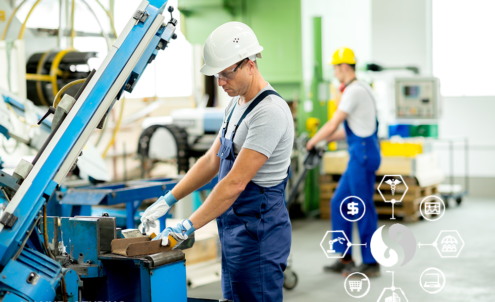 Manufacturing
Pandemic led crisis has reshaped how manufacturing enterprises of tomorrow will operate in all parts their organization.
Technology led transformation is the new normal. However, technology adoption does not necessarily equate to financial and customer outcome improvements. As most digitization will be led by disparate technology solutions in different silos of the enterprise. Optimizing for measurable revenue, cost and growth outcomes will remain a fundamental challenge.
ExperienceFlow Enterprise Digital Nervous System is helping large billion dollar manufacturing enterprise to reimagine and automate optimization in an end-to-end manner.
CEOs can significantly improve velocity, quality and effectiveness of organization-wide outcome oriented decisions and actions, enhancing the top line growth by 10 to 15%
CFOs will be ideally positioned to steer the resources where they are most required, thereby positively impacting free cash flows by 10 to 15%.
COOs can proactively address emerging variations and risks across the value-stream

reducing Machine downtimes by 30 to 50%

increasing Productivity by 15 to 30%

increasing Throughput by 10 to 30%

decreasing cost of Quality by 10 to 20%

Supply Chain executives can discover and model dependencies and impact between internal and external factors.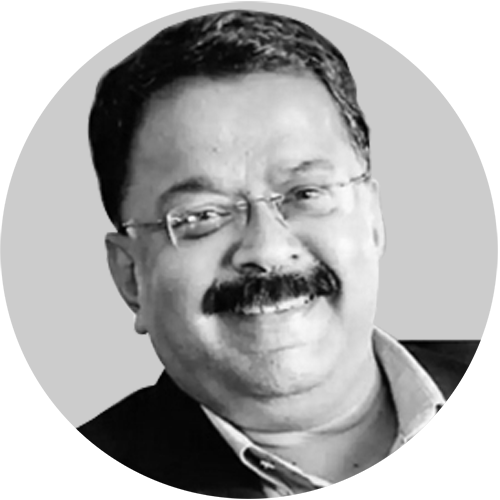 Swami Swaminathan (Advisor)
Ex-CEO & MD, Infosys BPO.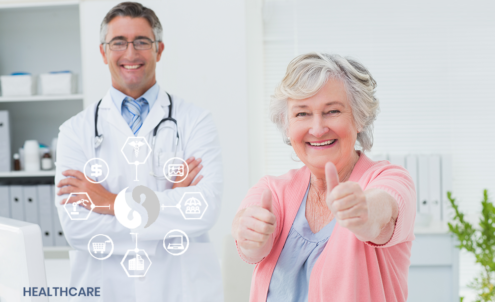 Healthcare
Healthcare
Hospitals, Diagnostic centres and Insurance organizations worldwide are facing an extremely volatile and uncertain times. Both on growth and supply chain fronts.
Enterprise management and operations team need to develop and evolve decision-making to be a lot more situational and dynamic to drive the growth and be cost-effective at the same time. This new paradigm of operating, opens up a new sets of opportunities and risks to patient experience, asset utilization and compliance.
ExperienceFlow's Enterprise Digital Nervous System is helping top 1% of healthcare enterprises to autonomously drive optimal sequence of decisions that can handle dynamic shifts in patient demand and supply chain.
CEOs can focus on right levers in real time that can enhance the quality and value of services provided to stakeholders thereby increasing the growth by at least 10 to 15%.
CFOs will be facilitated with solutions that can help them achieve financial performance –reduce cost per case by 10-15%, thereby increase operating margin and cash on hand.
COOs will be able to drive proactive decisions-actions across the patient/member journeys before there is an impact.
Insurance: Real-time correlation of Macro-level and Micro-level decisions-actions impacting Member Growth, Star Ratings, Sales Renewal and Provider Data Management.
Diagnostics: Dynamically adapting Macro-level decisions-actions to optimize financial and patient target outcomes by eliminating Micro-level variations in sample processing, field logistics, asset utilization and employee productivity.
Hospitals: Proactively control end-to-end patient, order and supply-chain processes to improve operational SLAs (Micro level), reduce ALOS, increase through-put, reduce wastage, etc, and thereby achieve a reduction in cost, increase in revenue & enhance patient loyalty (Macro level).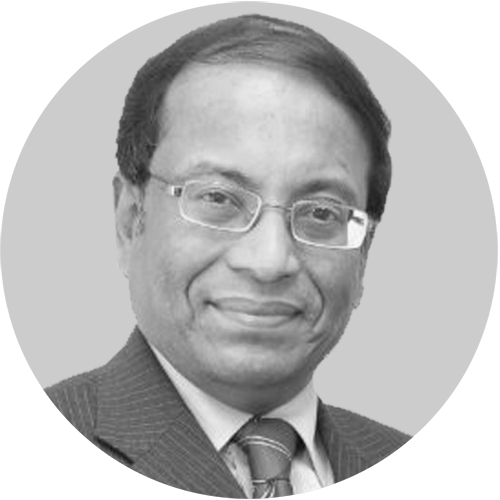 Anjan Bose (Advisor)
Ex-Founder Secretary General NATHEALTH.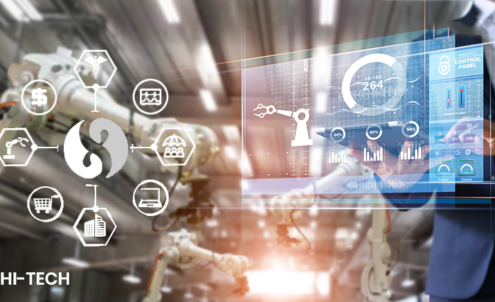 Hi-Tech
We enable companies in the hi-tech industry to manage complex 3rd party supply chains and critical internal product lifecycles.  We help them force multiply their organization using our situation-aware AI agents to monitor and control operations at the micro-level of every customer, every order, every product and every payment.
Our platform helps our clients
Improve Customer and buyer experience, Loyalty and Trust in real time

Improve Sales and Renewals with proactive customer care and quality-related interventions

Predict and manage lead times, Failure Rates, MTBF, MTTR across complex project Management, Service and Support Ecosystem

Reduce leakage of revenue across Product and Service Life Cycle Management

Reduce compliance penalties in real-time by the predictive advisory.
Vijay Rangineni (Advisor)
R Chandrashekhar (Advisor)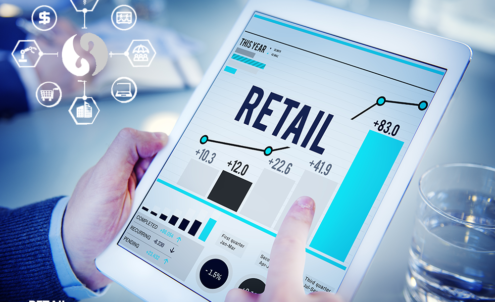 Retail
We help companies in the Retail industry force multiply their organizational performance in real time using our situation-aware AI agents to monitor, control and improve operations of the Retail Supply Chain and Logistics at the micro-level of every purchase, every store, every buyer, every SKU and every warehouse.
Our platform helps

Improve Customer and buyer experience, Loyalty and Trust in real time

Improve Sales and Renewals with proactive supply chain interventions

Improve compliance penalties in real-time by the predictive advisory.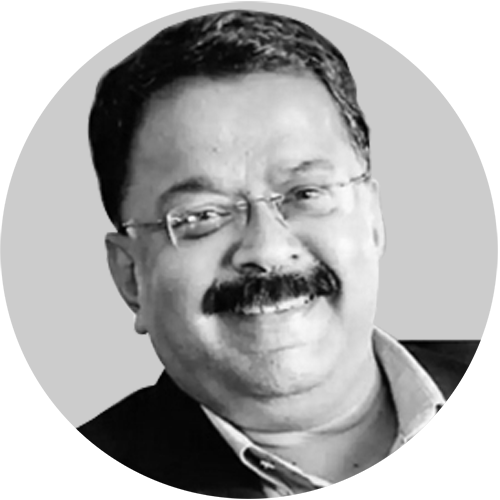 Swami Swaminathan (Advisor)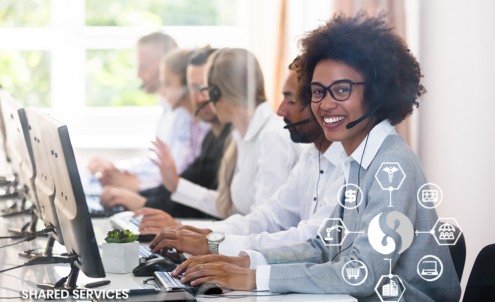 Business & Shared Services
We help companies in Services force multiply their organizational performance in real time using situation-aware AI agents to monitor, control and improve operations of Services at the micro-level of every queue, every transaction, every employee
Our platform helps
Improve Customer and user experience, Loyalty and Trust in real time

Improve Customer Service, Cross- Selling & Revenues through new generation Service Management

Reduce compliance penalties in real-time by the predictive advisory.
Case Study: A large Customer Experience Services Management Company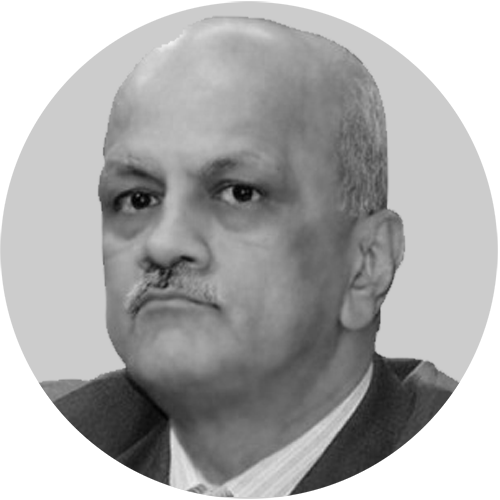 R Chandrashekhar (Advisor)
Customer & Leadership Quotes

Prestigious Hospital
Winner of Outstanding ICT Innovation Award
Driven by the vision of GM Operations to bring optimization to Business Processes.

$20+B Enterprise
Transforming Decision-making with ExperienceFlow's Business DNS
Driven by CIO's team to go beyond dashboards/insights to outcomes powered by faster and better Decisions & Actions.

Senior Partner at top consulting firm
Outcomes not dashboards
Senior Partner at a top consulting firm, working with one of their marquee customers is envisioning beyond analytics with ExperienceFlow's Business EDNS.

Giri Athuluru
Co-founder & CEO
Our mission is to proactively address micro-level decision-action variations that have compounding impact on financial and customer outcomes, and there by unlocking true potential of every enterprise. Imagine the net positive impact of consistent business peak performance and elimination of wastage … on the business, its customers, the society and the environment.

Brett Galloway
Executive Chairman
AI enables large enterprises to go beyond what is humanly possible with consistent and cohesive decisions and actions at all levels of the organization. ExperienceFlow is converting the art of driving human decision-action-outcome optimization loops into a science powered by AI based Enterprise Digital Nervous System.

Atul Bhatnagar
Board Member & Investor
ExperienceFlow truly makes CEOs to drive their vision for financial and customer outcomes and achieve their ultimate potential. This platform revolutionizes how we conduct yearly and quarterly planning and execution of strategic objectives and OKRs/KPIs.